Pragmatic Studio Alumni Member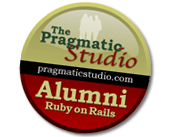 Well, I just got back this past weekend from the Pragmatic Studio in Boston and it was well worth the time and effort. If you have not yet used the RoR framework for web applications, stay tuned to my next post. By next week I will lay out an extensive tutorial on how to install the framework with all the proper goodies on your Mac. So do not wimp out and go for that easy package install and dare to impress your friends as we build our own software installs with Darwin Ports.
Remember, if you are new to RoR, I highly advise that you take the time to browse over to the Pragmatic Bookshelf and buy yourself some PDF books. I suggest starting with Chris Pine's How To Program and then moving on to the 2nd edition of Agile Web Development with RAILs mixed with brief dives into the Ruby language with the famous Pickaxe book.